A master of handy user interfaces and beautiful portraits
A software developer by trade and an artist in her free time. That's how Anastasiia Borodulina, who has lived in Oulu for five years, describes herself. She is inspired at work and in her free time by all things creative.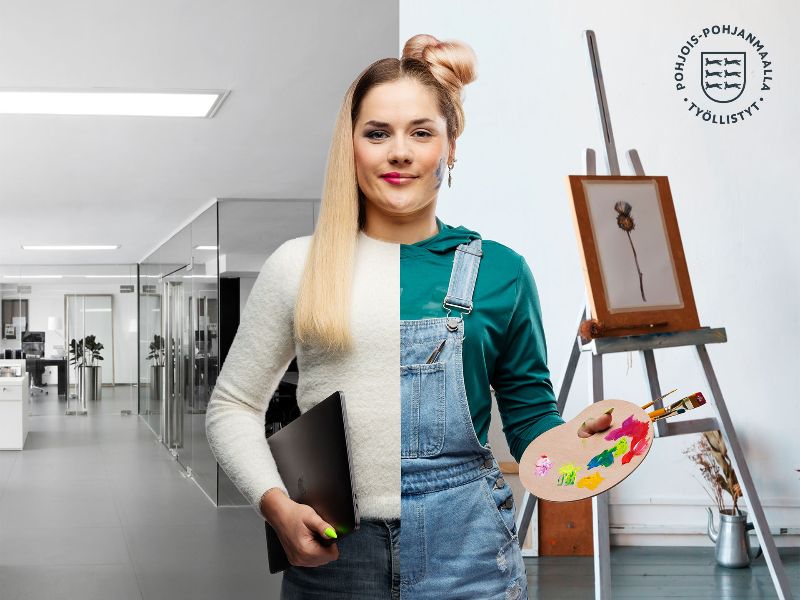 Chance led Anastasiia to Oulu. In her home country of Ukraine, she completed her bachelor's and master's degrees in information security at the National Aviation University in Kiev. After graduating, she wanted to continue her studies in information technology, and did not rule out a move abroad. By coincidence, she became aware of an interesting master's degree programme at the University of Oulu and met a friend who was studying in the very same programme. Her friend invited her to visit Oulu, and after a two-day visit, Anastasiia was sold. She soon moved to Oulu to study for a master's degree in computer science and engineering.
After completing her studies, Anastasiia worked for six months as a research assistant at the university. During that time, she realised she wanted a slightly more creative job where she could make use of her artistic abilities.
"I wanted to combine creative design with programming, so I quickly settled on front-end development as the perfect solution," she explains.
With that in mind, Anastasiia headed to the Pesti event, held annually at the University of Oulu, to learn more about employers and job opportunities in the industry. The day was almost over, and the majority of representatives were already packing up their stands. Representatives from technology company Uros, which specialises in Internet of Things (IoT) services and mobile solutions were still there, however, so Anastasiia popped over to have a chat. It turned out that the company was searching for someone just like Anastasiia. Perfect! That same evening she sent an email to the company, arranged an interview, and got the job.
Truly room to develop
Software developer Anastasiia designs, programs, and maintains web pages and their components. The work requires good visual perception and some basic knowledge of web development, but Anastasiia feels that the most important thing is the desire to learn new things and develop skills.
"My work is incredibly interesting, and I really enjoy it. If I need more of a challenge or some variation, I can always let my boss know and we come up with a solution together. It has been great to find a workplace like this where I can truly develop my skills and performance."
Anastasiia says that the best part of her job is definitely the good team spirit. Her colleagues support and encourage one another, and you always help out your friends, no matter what the problem is. It's also really fun to work on interesting projects in a warm and open environment.
Anastasiia believes that Oulu's reputation as Finland's key technology city is well-deserved. It is easy to find work in the industry in Oulu, whether at small start-up companies or large technology giants. There's plenty of work for seasoned veterans as well as future experts who are only just starting out on their career path.
Nature and art are close to heart
Since moving to Oulu, Anastasiia hasn't felt the urge to move elsewhere in Finland, even though many of her peers headed to Helsinki after graduating.
"At this point in my life, Oulu offers me what I need – peace." I love nature and snow, and Oulu has plenty of both. Wherever you go here, it feels like you're in the middle of a forest. I'm always surprised each year how quickly spring and autumn come and go. It feels as though everything around you changes in just a few hours!"
Anastasiia thinks Oulu is a nice and sensibly planned city. Even newer areas have well-developed infrastructure, and services work well.
"I like to go for walks, and I cycle a lot. There are all kinds of hobby opportunities, interesting events, and festivals all year round. I haven't been to an ice hockey match yet, though!"
One of Anastasiia's favourite hobbies is drawing. She used to be a traditional artist and drew lots of portraits in pencil, but this autumn she's decided to make a foray into painting. Recently she's also spent her free time practicing digital art.
Her favourite places in Oulu are Nallikari, the beach at Tuira, and Ainolanpuisto park.
"The park is particularly lovely in late spring and summer when there are lots of people around, nature is in full bloom, and you can hear the sound of the water and children laughing. I also like Kesän Sauna, which is a sauna in Tuira that floats on the river. It's an amazing experience to sit in the hot steam of the sauna and then jump straight into the cool water. It's a fantastic way to unwind after a hard day!"