Creative solutions can be applied to work and your free time
The sea and a proper winter. Those were the two most important things that Joni Saarinen was looking for in a place to live after finishing secondary school. He had enjoyed living on the coast for his whole life, and after the winters in his home town became milder and milder, he began to dream of snowier places.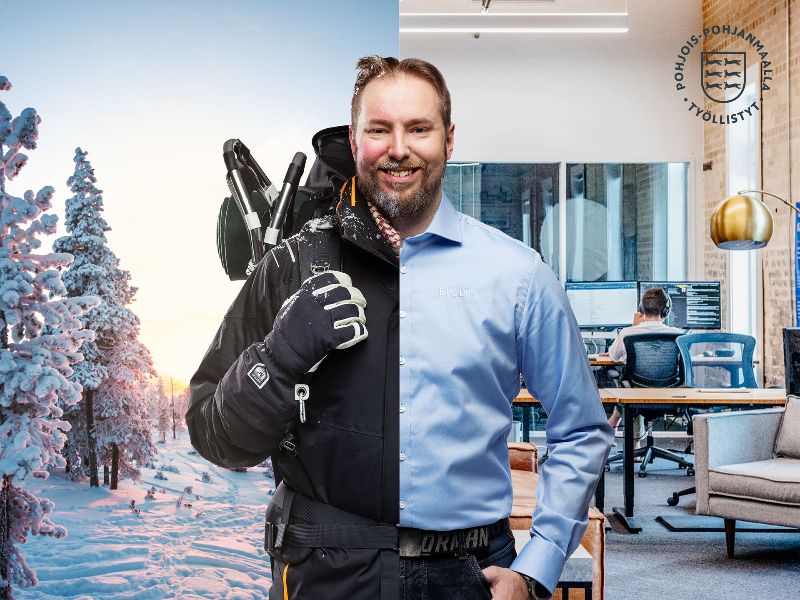 Joni had longed for snow, ice, and cold weather for years. The signs had long been there, such as when he decided on an impulse to go on a swimming trip with friends to the Arctic Ocean. He had just finished school, with military conscription ahead of him, and he was beginning to get itchy feet.
"We didn't have the budget for a holiday abroad at the time, so I thought, 'Okay guys, we're going swimming in Norway!' We've looked back on that trip fondly many times," says Joni.
It was a rather unforgettable trip. Even though the group ambitiously and enthusiastically set off to go swimming, the water was so unbelievably cold that in the end, only Joni had the courage to head into the water. You have to honour your promises, even if it means gritting your teeth and shivering!
The trip took a surprising turn when the group's car decided to break down on the way back, and the soaking wet hero began to feel warm rather than chilly, a worrying sign. He was saved from hypothermia by a sauna at a hotel in Kilpisjärvi.
"I didn't even get a cold!" says Joni.
At around the same time, Joni had to decide where he wanted to study. Oulu had stuck in his mind after the trip.
An unusual career path to a dream job
When Joni moved from Rauma to Oulu to study in autumn 2010, he didn't suffer any culture shock.
"I think, with my dialect, I might have actually given Oulu a culture shock instead. The Oulu dialect sounds fun and cheery to me, even though I wondered why people seemed so shy. I only found out later on that in Oulu they say that they 'dare' to do something when they mean that they can be bothered to do something.
But Joni, who is now a project and process manager at Bittium, applied to Oulu university to study biology, not technology. So how did a biologist end up at an engineering company?
"I graduated in the middle of a recession when employment prospects were poor, so I had to get creative. I went to a management course that included a work experience module that I had to arrange myself. I walked into the Oulu Technology Village and began to read the signs to see what companies there were," he remembers.
After looking into the companies' operating sectors and financial figures, he decided that Bittium was the most interesting option. The growing, global company had a brand that sounded successful and creative, and the opportunities it could offer Joni seemed attractive.
"I thought that if I could just get and interview and get my foot in the door, I would get myself in somehow. Luckily, I was invited to an interview and showed up. At the end of the interview, they asked me when I could start. I asked whether or not tomorrow would be too late. I guess that was the right move, since I got the job and I'm still here now. Despite my different background and experience – or perhaps precisely because of it – I've done well here."
Joni began his career at Bittium in the quality department working on environmental tasks. When the company got wind of his skills, his tasks became more complex.
"I've been involved in all sorts of varied tasks here and brought a slightly different perspective to things. When companies get big enough, they need people with new ways of thinking to keep things well-oiled and running," he adds.
Joni's creative thinking, his ability to adapt, and his skills with managing large projects all serve him well in his work, where he is tasked with keeping projects on track and moving forwards. The team has separate experts for examining technical details with a fine-toothed comb. Joni's social skills and problem-solving ability also play an important role in his work.
At Bittium, Joni enjoys the good community spirit and appreciates that employees are challenged to continually develop their skills in a positive way.
It always pays to try out new things
Self-development is a passion for Joni in his free time, too. In Oulu he tried out all kinds of hobbies, from Korean two-handed swordsmanship to ashtanga yoga, and a skipper course.
"I had wanted to get my skipper's licence since I was 15 years old. When I got fed up with being a landlubber, I took an archipelago skipper course at Oulu-opisto. I also got my hunting licence, even though I haven't spent a single day in the forest. Still, it's always nice to gain new skills and abilities. You never know when you might need them," Joni laughs.
One of winter-loving Joni's favourite pastimes is snowshoeing. This was another thing that he chanced upon.
"During my first or second winter in Oulu, the snowdrifts piled high, and I just happened to see proper snow shoes in the shops. I could have skied, but skiing equipment was a bit too expensive for my student budget. Snow shoes were cheaper."
Joni particularly enjoyed roaming the routes and the fantastic winter scenery. Over the years, he has become familiar with Oulu's hiking trails, especially around Hailuoto and Rokua. He often visits his favourite spots in spring, though with less gear.
He recommends Oulu and North Ostrobothnia in general as a great place to live for everyone.
"Honestly, I'd recommend living here to anyone, since there's everything you could need here, and plenty to do. Well, actually, if you long for a bustling metropolis, then perhaps Oulu isn't the place for you. Hong Kong and Tokyo are in a totally different league!"