A dream job took Nasrin to the perfect city for her
Early this year, Nasrin Shoghibadr received a dream job offer from Nokia that was too good to refuse, and she now works as an antenna design engineer in Oulu. An inspiring job, kind-hearted Oulu residents, and fantastic nature have all captured Nasrin's heart, so she isn't in any rush to swap her new city for anywhere else.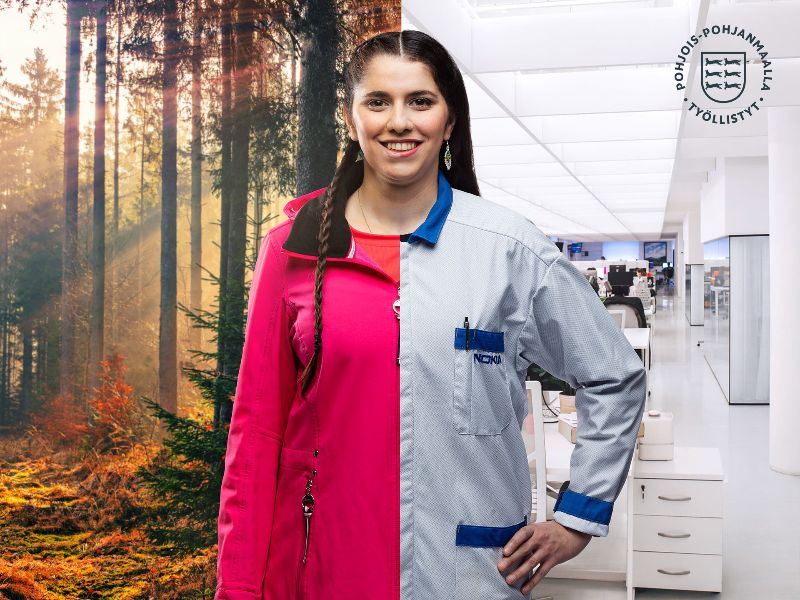 In her home country of Iran, Nasrin obtained a master's degree in wave telecommunications engineering at Amirkabir University of Technology in Tehran and also taught mathematics at a local high school. After graduating, she moved to Helsinki in 2020 and began work as a researcher at Aalto University. The job was fixed-term, so in the winter it was time to look for another job.
"I received job offers from the two best companies in the field of telecommunications in Finland; one job was in Helsinki and the other in Oulu. I wanted to stay in Finland for a long time, so the non-fixed-term contract offered by Nokia with a job description that was a perfect match for me felt like such a great package overall that I had to take it. I'd always dreamt of working at Nokia, but I never thought my dream would come true!"
Nasrin and her team are modelling the antenna using RF simulation and 3D design software, and are also working on the development of antennas and other communication devices. Her work requires good problem-solving and critical thinking skills, design ability, the ability to collect and analyse data from prototype tests, the ability to work with different simulation software, and the ability to code.
Nasrin thinks that Nokia is an excellent employer, as it encourages its employees to continuously develop and offers equal employment opportunities to everyone in the industry, from trainees to experienced professionals.
She says the best things about her job are the flexibility, the wide range of development opportunities within a skilled work community, the healthy work-life balance, and a truly encouraging atmosphere.
"I love my job, and my fantastic, friendly colleagues! They're always ready to help, and care not only about my professional development, but also about me as a person. Even though I live alone and don't have a family here, I've never felt lonely thanks to my great colleagues."
Nasrin has found the people in Oulu to be very friendly and always willing to help.
"Once I got lost here in Oulu and couldn't find my way even with Google Maps. I asked a passer-by for help. She didn't speak English, but did her best to help me. She called her husband and asked him to give me directions in English over the phone. Their help meant so much to me!"
Autumn colours call for photos
To Nasrin, Oulu is a little big city; just the right size to have everything you could want.
"I spent 25 years of my life in a big industrial city, and I can say that Oulu is the best place possible for me to live! Nature is nearby, the air is clean, everything's safe – even if you're out alone at night – and peaceful, living is more affordable, and life is just less stressful in general."
Nasrin fell in love with Oulu's exceptionally beautiful nature right away, and it has inspired her to take up nature photography.
"Autumn is my favourite season, and I think the best time and place to photograph nature is autumn in beautiful Oulu! I also like to pick berries and mushrooms."
Spending time outdoors in nature beats working out at the gym any day for Nasrin. Cycling and walking in the fresh air helps to reduce stress and get the creative juices flowing. She believes that the changing seasons are nature's gift to the people of Oulu. In spring, she loved waking up to birdsong. In summer, she enjoyed the warm, sunny days, and admiring the bright, blue sky. In summer, people seemed more relaxed than usual, and were thoroughly enjoying life.
"I haven't experienced winter in Oulu yet, as last winter I was still living in Helsinki. I'm not worried about the cold and shorter days here, though. I have a solution for the darkness: I usually use the lights and candles during the winter which makes the home warm and romantic. Keeping warm in cold weather is about dressing properly. I can't wait to walk over the sea ice in warm winter clothes and admire the northern lights in the night sky!"
Nasrin would recommend Oulu as a place to live and work for anyone who loves nature, and appreciates the services, safety, and great opportunities for leisure activities.
"I'm sure that everyone who visits Oulu even once will want to return someday," says Nasrin.