Shop owner gives Juho motivation
Fresh vocational business graduate Juho Leppänen had participated in the Homma haltuun - Toiveista työhön project, which promoted the employment of people with disabilities, and gained a trial work position at a grocery store. The employer was granted a subsidy for pay and for arranging working conditions, after which the grocery store became Juho's first job. Juho is customer-oriented and a well-liked member of his work community, who has been given his own responsibilities.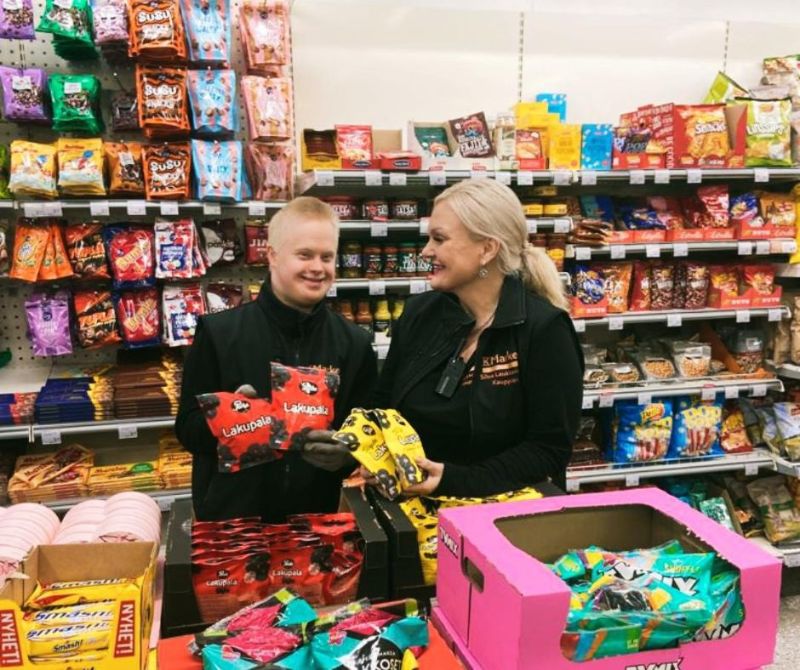 Juho Leppänen, 23 years old (pictured), gained his vocational qualification in business from Spesia Vocational College in June 2021. During his studies, Juho gained work experience in grocery stores, service stations and cafés, but finding employment in the labour market ended up being challenging after completing his business degree.
After graduating, Juho joined the 'Homma haltuun – toiveista työhön' project, the aim of which was to help people with disabilities find employment. During the project, Juho participated in open work activities at K-Market Pirkka in Varkaus, through the city's social services.
At the same time, the TE Services began investigating Juho's employment opportunities. Juho, an expert from TE Services, a work ability coordinator, a project worker and an employer familiar with open work activities would work in close cooperation. Employers were given information on the forms of recruiting support, i.e. pay subsidy and support for arranging working conditions. Thanks to these efforts, Juho started his first paid job in September 2022.
Mutual benefits
The 'Homma haltuun – Toiveista työhön' project ended last year, but Juho Leppänen, who is on a permanent disability pension, continues to work at K-Market Pirkka with the aid of a pay subsidy. Juho's desire to work and be part of the work community are great.
According to his employer, shop owner Silva Laukkarinen (pictured), Juho is a motivated and reliable employee and a charming person who is a good fit for the work community. Juho is also very well oriented to customer service.
– Sustainability is a part of our operation, and everyone is welcome with us. Diversity is a benefit. It's been great to be a part of Juho's journey offer him a job. Juho is a proper member of our work community, with his own responsibilities. This was a win-win situation for both parties: Juho got the job that he had been hoping for, and we got a motivated employee, says Laukkarinen.
The 'Homma haltuun – Toiveista työhön' project was one of the projects of the Working Capacity Programme in the administrative branch of the Ministry of Social Affairs and Health. The project was active in 2021–2022, and it was implemented by the Vaalijala joint municipal authority. Its target areas were the regions of Southern and Northern Savonia, and Varkaus, Pieksämäki, and Mikkeli were the pilot cities. The project introduced job coaching for supported employment, which is based on quality criteria.
Read more