Appropriate services, personal motivation and finding tasks to match her skills made Heli a bakery employee
During her working days, Heli Kiimalainen from North Savo packs bakery products at the Kuopio-based Malmberg confectionery. This is the first job for Heli who had to retire early at the age of 21 due to her visual impairment. Employment-promoting services helped her find the job. Heli enjoys her various tasks, as they match her ability to work, and all employees address occupational safety.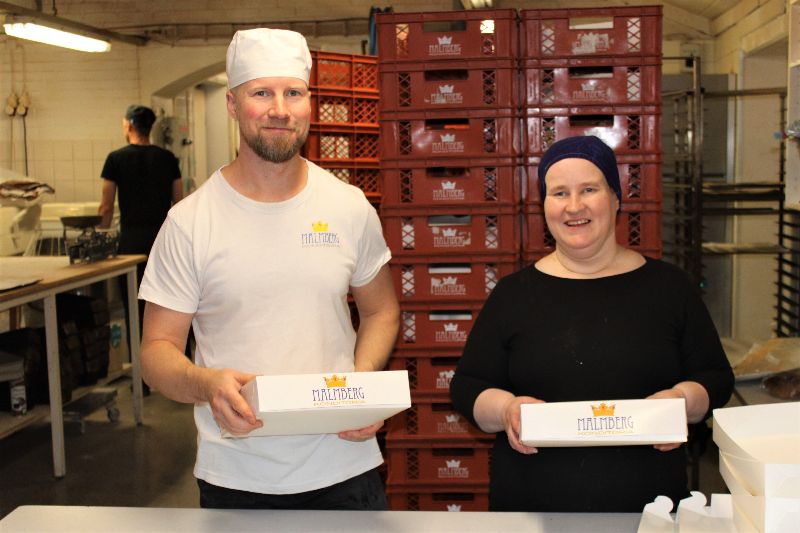 Four days a week, an employee known by the other members of the working community to always be in a good mood, walks in to the Malmberg confectionery in Kuopio. She is Heli Kiimalainen from Nilsiä. Her daily routines flow seamlessly, as her tasks match her ability to work, and her colleagues know how to address her visual impairment in the hectic bakery environment. Heli, soon to turn 48, clocks six working hours during each of these bun-scented days. She has had her say regarding her workloads.
Kiimalainen graduated from a vocational college's fabric weaving programme in 1994. She was however unable to find a job during the recession, nor did she have the courage to start her own business even though her degree programme also included business studies. Heli's low vision also restricted her ability to land a job, and she started to draw a disability pension at the age of 21 after the Social Insurance Institution of Finland recommended it.
However, her will to work did not wane. In the late 2010s, Heli participated in the activities of the Finnish Federation of the Visually Impaired.
"We checked if there was any work that I could do. The federation then urged me to contact TE Services, which let me know about Valo training, also held in Kuopio. There we applied for work trials and jobs. We called and emailed at least 35 employers before we found the right one," says Kiimalainen.
Appropriate tasks were found by experimenting
Sami Malmberg, one of the three owners of the Malmberg confectionery, established in 1988, first welcomed Heli for a three-month work trial in spring 2021.
"The summer was approaching, and it's normally a busy season for us. Some of our employees were on holiday at the time. We had our initial worries about having enough time to train Heli, but we decided to give it a go. Actually, Heli came here at just the right time. She tried various tasks, such as dough making, but it turned out to be a bit too hectic as many people were working in the same room. Heli also did well in that job, but she didn't feel at home in it," says Malmberg.
Heli found the work trial period necessary.
"It helped me learn all the routines and where everything is. I also acquired the Hygiene Passport. As I had to read lengthy texts, I practised examination questions with my assistant. I only had one wrong answer in the final examination," says Kiimalainen laughing.
After the work trial, the confectionery hired the excited new employee. TE Services provided a pay subsidy and a subsidy for arranging working conditions. An enjoyable job to match Heli's skills was eventually found in bakery product packaging.
In practice, one of the other employees brings breads, rolls and buns, as well as their product bags, to Heli. She then packs the products ready for sale.
"My job also includes various preparations. For example, I fold dozens of boxes ready and clean and stack plastic boxes and protect them with paper for loads shipped the following day. I'm also responsible for slicing bread. One of my colleagues changes the correct settings in the slicing machine, and I slice and package the products. All in all, I carry out a broad range of tasks," says Kiimalainen.
Malmberg says that she no longer even remembers that Heli has a visual impairment, as she works and moves around so effortlessly.
Various subsidies available
Improving the position of people with a partial ability to work in the job markets is part of the Finnish Government's 75% employment goal. Employment measures include the work ability programme, as a result of which work ability coordinators have started to work in TE Services. Their task is to help people with a partial ability to work to find employment and encourage and guide employers to hire people with a partial ability to work.
A work ability coordinator from TE Services in North Savo also helped Heli Kiimalainen find a job, and support has also continued to be available later. Heli's interaction with TE Services has been effective, and she is pleased that she can always call and ask for advice.
TE Services also provide employers with concrete support.
"I received help in completing application forms for a pay subsidy and a subsidy for arranging working conditions. After all, I've never applied for similar subsidies before. Like many other entrepreneurs, I'm pretty bad at filling in forms. It would be better if both subsidies could be applied for using electronic systems," says Sami Malmberg, referring to the current practice of applying for the subsidy for arranging working conditions using paper forms.
Commuting is no problem either, even though Heli has to travel 50 kilometres twice a day. In fact, travel combination services in Kuopio enable transport for individuals who have specific long-term mobility difficulties, as laid down in the act on services and assistance for the disabled. Heli only needs to pay EUR 1.30 per trip, not much with all things considered.
What plans does Heli have for the future?
"I definitely want to continue in working life. My current employment contract is valid until the end of this year, and if I can't continue working here, I'll apply for other jobs. I'd like to encourage everyone with a partial ability to work to be persistent when looking for work. Keep going – don't give up when you run into the first obstacle. Help is also available. I'd also like to encourage employers to hire people with a partial ability to work, because all kinds of employees eventually learn by doing."
Sami Malmberg hopes that raw material costs and electricity prices will not rise too high next winter so that they can continue to keep Heli a member of their team next year as well.
"All in all, we have nothing but positive experiences in hiring employees with a partial ability to work. Employers shouldn't hesitate to give it a go – after all, work trials and subsidies reduce any risks significantly. Most importantly, if someone has a burning desire to work, in the end it's best for everyone that they get a job. I was also a bit worried at first whether Heli's visual impairment would be a potential cause of hazards, but we've had no problems whatsoever, as Heli can take others into consideration, and vice versa. Everything's just great," says the employer, describing everyday life in their 12-person working community.
You can watch the life of Heli Kiimalainen, who started her first job at the age of 47 years, in a TV documentary broadcast on Yle later this year. The programme focuses on ten people who work while drawing a pension.
Read more
More information